SnapView™ Software


Easily analyze images and generate custom reports
IR SnapView™ provides advanced infrared image analysis and report generation features that the others often charge thousands extra for. IR SnapView image analysis and reporting software is provided with each IR SnapShot® camera at no addition charge. IR SnapView software runs on computers with Windows95/98/NT®. It allows you to analyze your images and automatically generate custom reports in Microsoft Word 97 format1.
IR SnapView provides the following features:
Determine the temperature of any point in the image
Adjust image emissivity and background temperature
Draw shapes or points on the image and display statistics about the temperatures in those areas
Compare two images to detect trends
View isotherms (areas of equal temperature)
View and enter information about the image
Adjust image palette (colors) and scaling to enhance image features or to compare images
Export an image as an Excel data file or as a standard graphic (JPEG, BMP, etc.) image
View a histogram of the image temperatures
Print an image
Transfer images to the computer using a PCMCIA flash card
Automatically generate custom reports in Word 97 format1
1Requires Word 97 (not included) to be installed on your computer.
---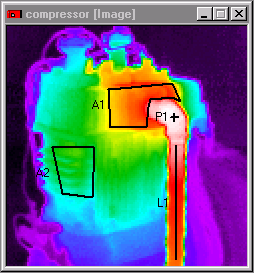 Thermal Image
This image has several regions defined; two areas (A1, A2), one line (L1), and a point (P1). Statistics are shown below.


Region Data
Statistical data for each region is displayed to the user.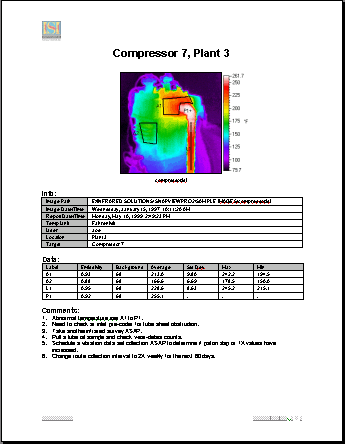 Report
SnapView generates reports based on templates that you can customize to suit your needs. Several ready-to-use templates are included with SnapView. You can modify these templates, e.g. you can add your own logo, or you can define an entirely new report template of your own. Working with SnapView reports and templates is as easy as editing a Word document. Because SnapView outputs its reports in Word 97 format, you can edit, print or email your reports to others. The sample report shown is available in PDF format (requires free Adobe Acrobat Reader) or in Word 97 format (requires Word 97). Additional sample reports are also available on the ISI downloads page.

Authorized ISI customers may download the latest version of SnapView software. Please see our download page.
SnapView Pro™


Remotely Control the Camera
SnapView Pro software is available at additional cost. It provides the capability to connect to, and control the camera using an RS-232 serial communications cable (provided with SnapView Pro).
All functions normally performed by activating buttons and menus on the IR SnapShot®, such as focus, snapshot, store, recall, delete, and menu setup, can be activated remotely from the PC. In addition, the software can be used to download images directly to the PC.
Authorized ISI customers may download the latest version of SnapView Pro software. Please see our download page.
---
[ Home Page | About ISI | Technology | Products | Downloads | Applications | Contact Us | What's New ]


Copyright ® 1999 Infrared Solutions, Inc. All rights reserved.
Web page questions or comments? Email: webmaster@infraredsolutions.com

Top of page